ЕДУАРД СТРАНАДКО "КОЛЕКЦІЯ"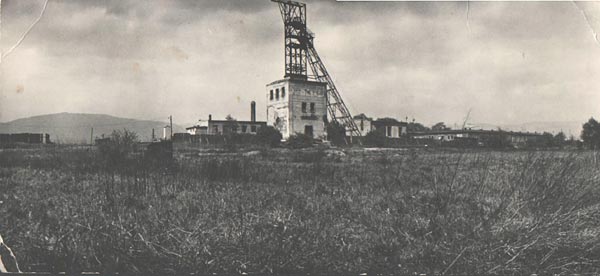 Foto J. Sudek 22x10cm. It is written on a stamp: "Most, 23 III 1962, Jednota-boj-vitezstvi 1932-1962, mostecka stavka."

Шахта Гумбольдт II. в Иржетине под Мостом Здесь началася славная стачка горняков северной Чехии в 1932 году. Добыча угля на шахте была прекращена в 1934 году.

Bergewerk Humboldt II. in Jifetin bei Most. Hier flammte im jahre 1932 der historische Streik der nordboinischen Bergarbeiter auf. Die Kohlenforderung wurde im Jahre 1934 eingestellt.

Humboldt Mine II. nd at Jiretin near Most. There in 1932 the historical strike of the north-bohemian coal miners flared up. The output of coal was laid down in 1934.

Les mines Humboldt II. a Jifetin pres' de Most. Ici a commence la greve historique des mineurs de la Boheme du nord en 1932. Les mines furent fermees en 1934.